Word Processing
Contact Management/Scheduling
Purchase ACT! today!
ACT! is the #1 best-selling contact management solution - used by millions and praised by experts around the world.
ACT! organizes all your customer information in one place to give you instant access to every detail of every relationship. You'll be able to find anyone or any detail in seconds, including names, phone numbers, addresses, notes from previous conversations, upcoming appointment details, call histories, a list of follow-up activities, and much more - for any contact you choose! ACT! even manages your sales pipeline with forecasting tools and built-in reports and allows you to safely share complete customer information with your workgroup.
Link Act! with your favorite Accounting Software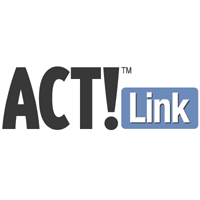 No CD or documentation is shipped with the downloadable product. Online manuals are not included in this file to minimize the time required for the download. To get copies of the online manuals, click here.
This product is only available in download format. If you need a CD containing the software mailed to you, please add this product to your shopping cart. Once on the shopping cart webpage, add in the "Backup CD Service" to have a CD mailed to you.
System requirements
Pentium 133 megahertz (MHz) or higher processor
Minimum 64 megabytes (MB) of free hard disk space
VGA or higher monitor resolution
Windows-compatible modem required for auto-dialing or modem-based synchronization
Microsoft TAPI-enabled phone hardware and caller ID support required to auto-find contacts
QuickBooks Pro, Premier, Enterprise, or Contractors Solution 2003 - US versions only. Purchase here at a reduced rate. Must be installed prior to ACT! Link installation
ACT! 6.0
Internet Explorer 6.0 or higher, to support extended tab/view interface in ACT!
Works with these popular applications
E-mail: Microsoft Outlook® 98/2000/2002 and Outlook Express 5 or later; Lotus® cc:Mail, Notes 4.6 or later; Eudora Pro®. ACT! also has a built-in Internet e-mail client (SMTP/POP3)
Word Processor: Microsoft Word® 97/2000/2002. ACT! also contains a built-in word processor
Fax: WinFax® PROTM 8.03 or later; Microsoft Fax
Supported operating systems and networks
Microsoft platforms including Windows 98/Me, Windows NT®, Windows 2000 and 2000 Professional, and Windows XP; Microsoft Networks; Novell NetWare® 3.12 or later
ACT! Link for Use with QuickBooks«
---
Data Storage/Backup
Document and Form Management
(Boxed - From eCost.com - a GREAT buy, though I just make 34 cents.. - $34.57 US Checked 10/20/03)
---
Previous Versions of Norton Internet Security